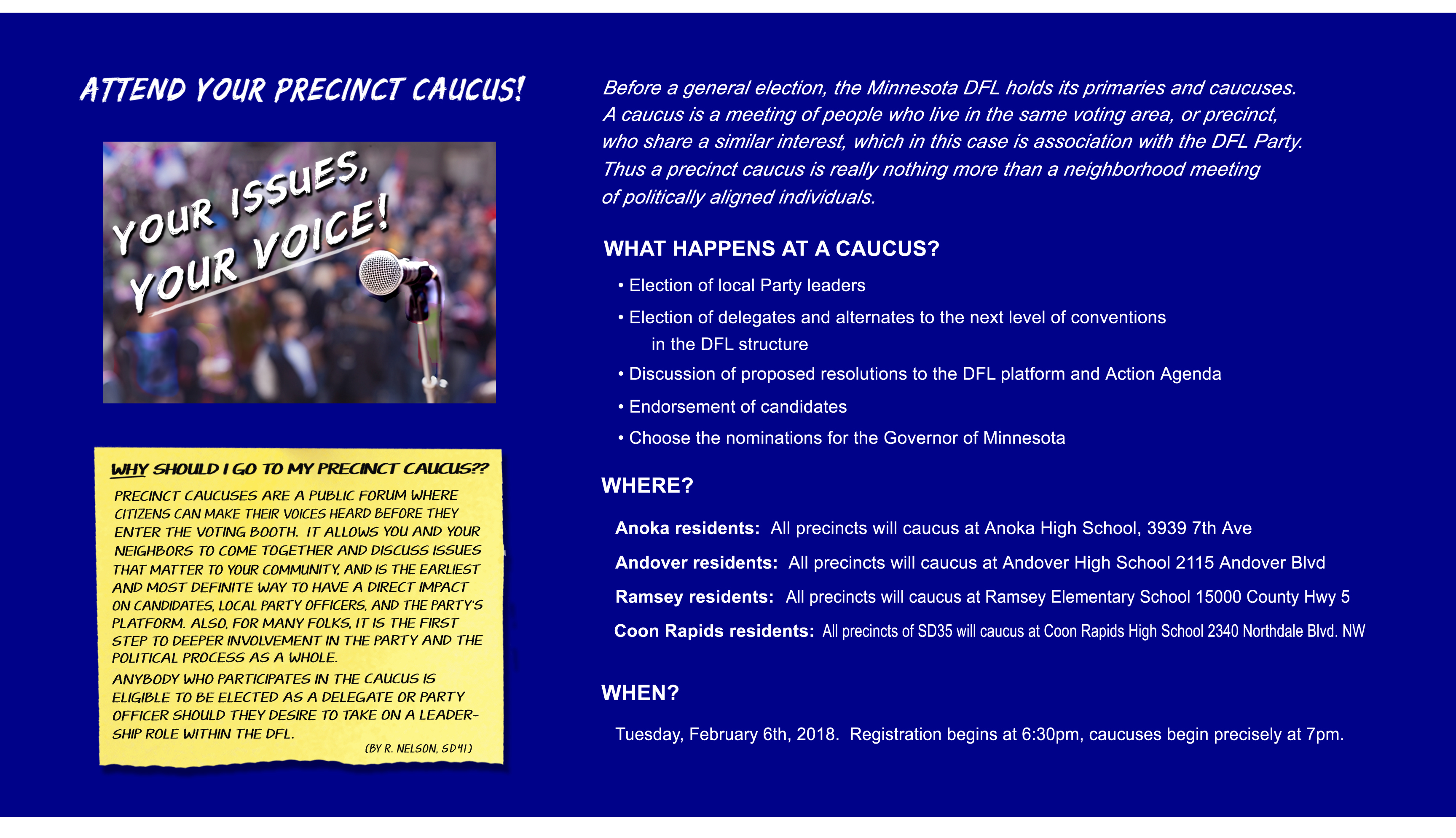 http://pollfinder.sos.state.mn.us/
PRECINCT CAUCUS TRAINING:
DFL Congressional District 3, SD 35 and SD37
will host caucus, and caucus convener, training.
The information presented at these sessions will go into much greater detail than is offered here. The sessions are as follows:
* Saturday, December 30, 2017 – Southdale Public Library, 1:30pm – 3:30pm.
* Wednesday, January 3, 2018 – Plymouth Branch, Hennepin County Library, 6:30pm.  (This session presented by Indivisible MN 03 Plymouth)
*  Saturday, January 13, 2018 – Hennepin Technical College, Eden Prairie, 11:15am.  (Immediately following the 3rd Congressional District DFL Gubernatorial Candidate Forum, 9am – 11am)
*  Saturday, January 13, 2018 – Northtown Library, SD 35 and SD 37 Caucus Training, 12pm – 1:30pm
 *  Saturday, January 13, 2018 – SD 35 Convener Training at the Rum River Library Meeting Room, Anoka, 2pm – 4:30pm
*  Saturday, January 20, 2018 – SD37 Convener Training at the Northtown Library, 12pm – 1:30 pm
*  Sunday, January 21, 2018 – Caucus Training at the Muslim American Center (MAC), 121st and Aberdeen in Blaine, 6pm – 8pm
*  Tuesday, January 23, 2018 – Convener training at the Rum River Library, 6pm – 7:30pm
*  Sunday, January 28, 2018 – SD35 and SD37 will be joined by Indivisible North Metro in a caucus training session, Coon Rapids Civic Center, 2:30pm – 5pm